The Rule of Two
March 30, 2011
I have been on some bad dates, some less "bad" than others, of course.  Back in 2005, I went on a first date to a Mexican restaurant in D.C. for dinner. (To come in a later blog post – why drinks are a better first date than dinner.) At any rate, my date was, how shall I put this… B-O-R-I-N-G.  I consider myself a fun, spunky person who can talk to just about anyone about just about anything.  But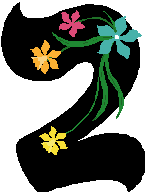 there were silences, and awkward ones at that.  As I chomped away on my fajitas, I was planning in my head what I would say for the next at least half an hour.  Finally, the date came to a close.  I thought to myself, "Nice enough guy, but that's it."
The next day, in usual Erika-style, I still sent my generic "thank you" e-mail.  He did pay for my meal, after all.  And he wrote back a few niceties about how he had a good time.  I figured this would be the end of our communication.  But then, lo and behold, he wrote something funny at the end of his e-mail, and I thought to myself, "Hmm… this guy wasn't funny at all on our date.  Interesting."  And so, the e-mails continued, and they became wittier as the hours passed.  And then they got pretty darn cute.  Until he asked me out again.  What was a girl to do?  While I didn't have a good time on the date, this guy seemed interested, I knew he could at least communicate in written form, and well, I was free the night he asked.  Oh, and I love baseball.  (He asked me to go to a Nationals game with himself and some friends.)  Why not?
The day of the second date rolled around, and I remember sitting at my apartment complex's pool studying for the GMAT with a friend.  I kept telling her that I was not looking forward to this date.  So, the hours passed before the date.  I finally decided to get ready, and off I went… We met in the metro, and he wasn't as bad as I remembered.  In fact, he was kind of cute.  When we got to the game, his friends were really friendly and inclusive of me.  Two points.  And then… against all odds… this guy was funny!  It was as if I was on a date with someone else.  We had a great night and even went out for drinks after the game.  I liked this guy.
I found out many months later that he was nervous – very nervous – on the first date.  We ended up dating for a year and a half.  While he wasn't the right guy for me in the end, I was so glad I went out on the second date, hence the Rule of Two.  Many people get nervous, or as I used to affectionately call myself on dates where I was trying to impress someone, "Weird Erika."
The moral?  Unless someone spits on you, picks his or her nose, or offends you in some unforgivable way, go on the second date.  You never know what comes after the first unless you try.