October 13, 2011

There's a section on Plenty of Fish, Jdate, and a few other sites that says, "My perfect first date." As I peruse people's responses, I'm overwhelmed by the sheer number of people who say, "Dinner," or worse, "A nice, long dinner." I don't know about you, but I'd be hard-pressed to devote two hours of my life to someone I've never met in person. Now, I'm not saying you can't have dinner with someone on the first date – quite the opposite. But instead of scheduling it ahead of time, you should just leave the option open. You can always add dinner, but you can't take it back.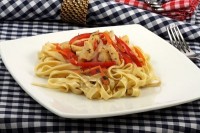 On my first date with Jeremy, we made plans to meet after work for a drink. I had arranged to meet up with a friend at a party later that night, so that when the drink was over (or if the date wasn't going well), I had my out. And I was actually looking forward to the party. I warned my friend, though, that if I ended up liking this guy, I wouldn't be joining her and the others. Lo and behold, I did have fun, and I did like this guy. Jeremy asked me if I wanted to have dinner after the drink, and I agreed. (Even though I had already eaten after work since I didn't know when I'd have a chance to have dinner!) It ended up being a six-hour date… and the rest is history. (We now have an official move-in date!)
It's ok to make plans that aren't set in stone after a date. You shouldn't schedule one-on-one plans because you don't want to stand your friend up, but it's ok to have plans with a group or a party… or with a glass of wine on your couch watching Beaches if you're so inclined. That way, if the date doesn't go well, it's no biggie – you have other plans to look forward to and can salvage the night. And if it does go well, you can continue the fun date, like I did. Back-to-back booking is ok? You bet.
So, rather than committing to dinner on "your perfect first date," how about this instead: "We start out with a drink, and six hours, some dinner, and some flirtatious banter later, we're still enjoying each other's company." That sounds pretty perfect to me.
Curious to know what my "perfect first date" section said? Click here.
Got burning questions you'd like answered in a future blog post? E-mail date411@alittlenudge.com
You Can Always Add Dinner, But You Can't Take it Back