January 31, 2012

The Scene: Your neighborhood wine bar, a first date from Match.com
The Cast: Kathy, 39, avid runner and ice skater & Pete, 42, steak-lover and football fan
The exit interview:
Kathy – "He was just ok.  We didn't have a lot in common, and the attraction wasn't there for me, unfortunately.  I'm glad we met, but I think it was pretty clear that this was our first and last date."
Pete – "Wow.  Kathy is the woman I have been waiting for.  She listened to every word I said about football, and she got two drinks, so that must mean she wanted to stay longer.  I'll e-mail her tomorrow to ask her out again.  I don't see any reason why she'd say no."
This scenario occurs a lot, and the disappointed party is not limited to either gender – it happens to all of us.  It's not the end of the world, though.  Seeing if you have a mutual connection is what dating is all about.  Unfortunately, sometimes you just don't.  But it's how you handle yourself afterwards that really matters.
If your date wants to see you again, you'll usually get an e-mail or text.  (Unfortunately, the phone seems to have gone out the window these days.)  If you're not interested, you have four choices: 1) Agree to go out with him/her again, 2) Politely decline with a white lie, 3) Politely decline with the truth, or 4) Ignore him/her.  Assuming you really do not want to go out with the person again, the best option is #3.  No one can be upset with you for politely telling the truth.  But it's all in how you say it.  When I was on the market, I probably should have saved this e-mail to copy and paste since I used it so often:
It was really nice meeting you, and thanks again for the drink.  Unfortunately, I just didn't think we clicked the way I'd want us to, but I think you're really great and hope to run into you again soon.
Not bad, right?  It's truthful, gets the point across, and there won't be any miscommunication.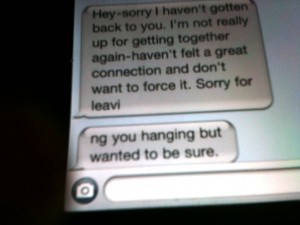 But what if someone wants to convey this message but lacks the tact to do so properly?  A friend of mine received the text you're seeing here.  The guy lacked sensitivity, and now not only does she know he's just not that into her, but she doesn't even like him as a person.  As I said, no one should get angry with you for being honest, but try to do it nicely.
A friend of mine recently e-mailed me her dilemma: "I went out with the French guy from online who I had a nice 'e-lationship' with.  The date was fine.  I don't really have complaints, but I also do not have butterflies whatsoever, not even moths fluttering around.  I think the attraction was not there.  He has now been texting, but I couldn't get myself to text him back yesterday.  I just don't think I want to hang again.  Is that bad?  Should I give it another shot?  Also, if not, do I need to let him know that nicely or do I just not write back? Ugh I never know what to do!"
My response: "Well, I'm glad the e-lationship with the guy ended and you finally met.  Did he at least have a sexy accent?  😉  Unfortunately, only you know whether there's enough potential to go out with him again.  If you think there's even a small chance, it can't hurt to have another drink.  Some people do get nervous on the first date, and attraction definitely grows the more you get to know and like someone's personality.  But that one is up to you.  As for letting him know vs. not, in this day and age, as you know, most people do not get back to someone after the first date if they don't want to go out again.  Given that he did text, you could let it go, which I'm sure is what most people would do.  But the better, more mature, response would be to say, 'I had a great time the other night.  Not sure I felt the spark, but thanks again for the drink!'  That way, it's honest, and if you ever run into each other, he can't fault you for being truthful.  I've found that it's typically the best policy because the non-response gets awkward sometimes, and with the city being so small, you're bound to run into people.  Let me know what you decide to do."
Plus, by not responding, you always run the risk of this happening.  So be honest… and be nice.
Got burning questions you'd like answered in a future blog post? E-mail date411@alittlenudge.com
The Art of Letting People Down