March 2, 2012

In online dating, making a good first impression is key. People can easily pass over your profile with the blink of an eye if they don't immediately see something they like. A recent study actually confirmed using data that men are extremely visual, looking mainly at the photos and less at the profile itself, making it even more important to choose wisely. Below are five rules of thumb for picking your online dating photos:
1. The main profile picture should be a clear headshot of yourself
If you don't have at least one clear headshot as your main picture (it's either blurry or too far away), it will look like you're hiding something. You don't want someone to click right past you because he or she can't see what you look like, automatically assuming the worst.
2. Less is more
Believe it or not, Match.com allows a whopping 26 photos in your profile. That sounds more like a Facebook album! I have no doubt that the pictures from your trip to Greece with you standing on the Acropolis are amazing… just remember, there's a time and a place for them, and that place is not an online dating site.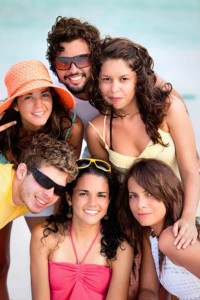 People have a tendency to look though all of your photos and dismiss you because they see just one they don't like.
3. Be by yourself in the shot
Remember – this is your online dating profile. It's not your friend's, it's not your dad's – it's yours. For that reason alone, you want people to see only you. You're already being compared to others on the site, so don't give someone the chance to compare you to other people in your own profile. If you're trying to show that you have friends or are social, just say so. And for men, if you are trying to say, "These attractive women will hang out with me, so you should, too," it actually backfires, making us think it's an ex you're not over yet. People often ask about pets. As long as Fido is yours, by all means take a picture with him. But just one.
4. Have one "interesting" picture
It's hard to know what to say to someone in that first e-mail, isn't it? This is why we need to provide some "e-mail bait" – something to catch someone's attention and generate questions. For example, if you have a picture of yourself with a gold medal around your neck, it automatically raises the question, "How did you get that?"
5. Be accurate
The point of doing online dating is to get offline. Don't lie about your looks – people will always find out the truth in the end.
Got burning questions you'd like answered in a future blog post? E-mail date411@alittlenudge.com
A Picture's Worth A Thousand Words…