April 5, 2012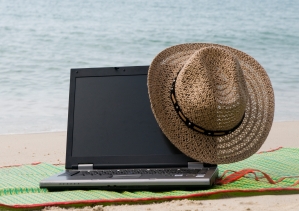 Online dating takes work. And it's sometimes a frustrating process. This I know. Even though my job is to tout the benefits of online dating to the world and help people through the process (and I truly do believe it's an amazing way to meet), there were times when even I needed an online dating hiatus, or a "guyatus."
Here are a few signs that you're ready for a guyatus (or girlatus):
You're sick of sending clever, witty e-mails and getting no responses.
Day after day, you send these e-mails, and when you log into your account… nothing. Did they not get your e-mails? Is your profile somehow invisible for the world to see? Did they just not like your hair? Whatever the reason, you're coming up short.
You're tired of creating said clever, witty e-mails; it's time-consuming.
It's hard enough thinking of a subject line, let alone one-of-a-kind e-mails on top of it. You don't have the time or energy anymore to think of something interesting to say to every new potential love interest.
You're getting stressed out trying to fit in dates between all your other activities.
Between happy hours, work functions, and school at night, even finding a an hour or two to schedule a first date seems daunting.
You've hit your first date capacity… no more!
You've been on one too many first dates that haven't panned out for one of a number of reasons – no chemistry, didn't look like the pics, etc. As I used to call it when I was on JDate, you're "JJaded."
Just as we need a vacation from work sometimes when we're burnt out, it's perfectly acceptable to take breaks from online dating to rejuvenate and get re-energized about the process. After you've been in the online dating game for a while, you may start dreaming of answers to "my perfect first date" and profiles saying, "I love to laugh, and traveling is my passion."
When you feel like giving up for good, just remember – breaks are ok, but giving up is not. If you've been laid off and now you're looking for a job, you don't just say, "Well, I don't really need a job. I'm done with this search." You get back on the horse when you're ready and power through those interviews, or first dates, if you will. Log off for a week or a month, and when you're ready, sign back on with vigor. Change your pictures, create a new username, e-mail people on the periphery of your search criteria. The love of your life may pop up this time around, and you'll be good and ready for it.
Got burning questions you'd like answered in a future blog post? E-mail date411@alittlenudge.com
Taking a Guyatus (or Girlatus) from Dating