January 21, 2014

Time sure does fly, doesn't it?  It's a new year, and with that comes a new outlook, maybe some new clothes, and, of course, some new people on all of the online dating sites.  (And don't forget about all of the new single people after the turkey drop and holiday season break-ups.)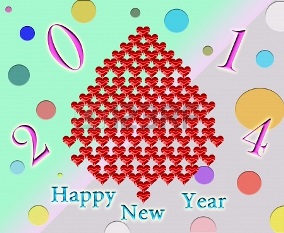 As we enter a new year of dating, with first dates abounding, it's important to remember some helpful tips for achieving dating bliss in 2014:
1. Remain optimistic.
Have you ever been on a date where your date walks in, and he or she just looks miserable?  Or maybe you were the one on your fourth online date in a week, and you're just jaded by the whole process.  That aura of negativity really sucks the life out of a date.  If you're not ready to be dating, say after a break-up, that's A-ok.  But when you are ready, it's best to go in with a smile.
2.  Focus on the big picture, not the small stuff.
Your date tells you that he's into some obscure indie band that you heard once and hated.  Is your potential relationship doomed?  Of course not, but sadly, a lot of people take tastes and hobbies more into account than what's really important – values.  I'd rather know whether someone is close to his family than whether he reads only historical fiction.  It's obviously nice to have hobbies in common (though I'm glad no one I ever dated played Mahjong like I do!), but in the end, small differences in tastes likely don't amount to the demise of a relationship.
3. Ask questions.
No one wants to go on a date where one person is talking the entire time.  In order to encourage a healthy back-and-forth, the best thing you can do is to ask your date some questions.  (Hopefully he or she will do the same in return and not take that as a cue to ramble on for an hour straight!)  The questions that have the most luck require more than a simple one-word answer.  You want to get the person thinking.  For example, rather than asking, "What do you do?" (perhaps the most boring question in the book), you could ask, "What made you decide to get into medicine?" or "How do you enjoy your job as a pediatrician?  I imagine it must be very rewarding."  The first question allows your date to simply say, "I'm a doctor," but the other two require a bit of introspection, leading to a more thoughtful conversation… and perhaps a second date.
4. Have confidence.
A little confidence goes a long way.  Be decisive, be proud of who you are, have the courage of your convictions, and tell someone how you feel.  These pointers can carry over into other aspects of life as well.  Sometimes you have to talk the talk and walk the walk of confidence for a while, but eventually it'll catch up to you.
So go out there and have some fun in 2014, and remember these pointers to give your dating life a boost. 
Tips for Dating Bliss in 2014