February 12, 2016
Around this time of year, I always get a lot of questions pertaining to the cyclical nature of my job.  "Is this your busy time of year?"  "You must get a lot of business before Valentine's Day."  "Do people's New Year's resolutions affect how many new clients come your way?"  In short, the answer is yes.  In fact, Match.com even calls this time of year "Online Dating Season."  I wonder what our forefathers would have thought about that.
What exactly is this "online dating season" that they speak of?  To put it simply, it's the period between Christmas and Valentine's Day, when there is a spike in both new members and member activity on the various online dating sites.  The dating company Zoosk reported that there would be a 20% increase in users in the first two weeks of 2016, and Match.com predicted a whopping 60% increase during the whole peak season.
Also, don't fret if you want to peruse some matches on Valentine's Day itself.  Let your coupled off friends have their day to frolic, drink champagne, and buy overly expensive chocolate.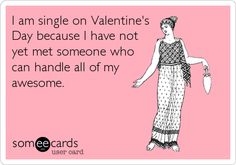 This day is for you.  As reported by TIME, several major dating sites show an increase in users and user interactions on the big day itself when comparing week-over-week-results.  And considering Valentine's Day is on a Sunday this year—and on a holiday weekend no less, with Presidents' Day on the 15th—we can predict that the increase will likely be exacerbated.  Many people log on over the weekend when work can't get in the way, and we know that the busiest day of the whole year, Sunday, January 3, just passed not too long ago.  I'm not a betting woman (though I do enjoy a few hands of poker now and then), but I would guess that this Sunday, February 14, will prove to be the second biggest Sunday for online dating this year.  Only time will tell…
My advice, whether in the peak season or not, is to plan out how you want to portray yourself before you sign up for a dating site.  Scope out which questions each site asks, such as "favorite hot spots" on Match.com or "six things I can't do without" on OkCupid, and have answers prepared and ready.  Online dating can seem overwhelming if you're trying to come up with clever, witty answers on the spot.  Just as you'd likely write a practice essay before going in to take the GMAT (well, I did anyway), you want to prepare yourself for this important step, too.
Keep in mind that the best time of year to do online dating is still when you're emotionally ready.  Don't let the pressure of the season force you into prematurely perusing the sites.  Assuming you are ready, though, then now is the time to click, swipe, message, and date!
Will You Be My Valentine, Computer Screen?