October 31, 2017
Ah, Tinder. Some love it. Some hate it. Some have no idea what to think about it.
Tinder was at the forefront of apps of its kind, coming into the market in September of 2012. In the last five years, largely due to this market disruption, a lot has changed for modern daters. "Swipe left, swipe right" holds a permanent spot in our lexicon; you no longer need a computer to do online dating, just a smartphone; and you find most of the people you want to date while you're in the comfort of your own home, likely in bed (or the bathroom). Do these things make Tinder a positive or negative thing for society? That's up to you to decide.
As a dating coach, I see many merits of Tinder and similar dating apps. For starters, much like the "traditional" sites like Match.com and eHarmony, using any kind of online dating site gives you access to people whose paths you wouldn't have necessarily crossed. Through the dating sites/apps, I have personally found myself out with men I wouldn't have met in my usual social circles. There was the TV actor (who I didn't recognize… oops), the corporate lawyer by day and stand-up comedian by night, the many people from other cultures/ethnicities/religions, and just the people who happen to live in a different neighborhood and have a different schedule than I do.
All of this speaks volumes about Tinder. One downside is, of course, the perceived anonymity of any site where you're not looking face-to-face at someone else. We all know about internet trolls, the people who write hateful comments under the guise (and pseudonym) of someone untraceable. Sadly, this happens on Tinder as well. In fact, I have a whole Instagram account dedicated to the less-than-stellar messages some women receive on such sites.
How do you combat this behavior? In my opinion, there should be a function where you can not only flag someone, but where you can also let other people know that he (or she) has said something lewd. Perhaps give that person a negative rating, like on Yelp or Uber. Just an idea.
This is not the idea, however, that Tinder itself had. Instead, they rolled out their new "Reactions" function this month, and, let me tell you, in my opinion, it's a flop.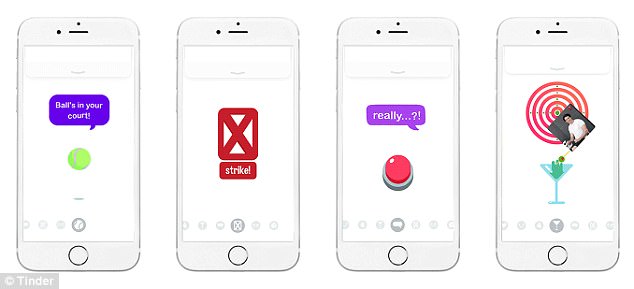 What are these so-called reactions anyway? They're a set of animations that women can send to men (not the other way around, I confirmed) to try to combat any online harassment they are receiving. Choices range from an animated bouncing tennis ball saying "Ball's in your court" to a "strike" sign similar to the one on Family Feud when someone says an answer that's not on the big board. I don't know about you, but I don't foresee an animated martini being thrown in someone's face and some (maybe sarcastic?) hand clapping ever putting an end to online harassment. If anything, it makes a mockery of it, which has exactly the opposite effect that Tinder is going for.
I encourage all of my clients to communicate. In words. And sentences. As in, if someone says something offensive to you, then tell him (or her) that it's not okay, in no uncertain terms. Someone is more likely to apologize after a heartfelt "That was inappropriate, and I deserve better than that" than a fake martini emoji, which, if anything, might induce some eye rolling.
So, to Tinder: Was this your best effort, or was it simply a marketing ploy? The world may never know.
Want to see what I really think? I talked about it with our friends at News Channel 8.
One Small Step for Tinder. One Giant Leap for No One.