April 24, 2014

Have you ever come across an online dating profile that you like, you want to send a message, and then you have a strong bout of writer's block? It turns out you're not alone. Many people have no idea what to say in an initial online dating email (or text, if we're talking about apps) to show someone that they have an interest in communicating and potentially meeting. For this reason, it's best to give these potential suitors (or suitoresses?) one more thing to comment about. In other words, provide them with some "email bait."
In my old JDate profile (LovesLifeDC), I had a photo of myself singing the National Anthem. I got almost daily emails asking where I was singing and how I got the gig. (Answers: A Washington Nationals game. A good demo and a lot of persistence. It was one of the best nights of my life… until I almost ran out of gas on the way home. I'll save that story for a rainy day.) This picture alone gave men the "in" they needed to strike up a conversation with me.
Other examples of some of my clients' interesting pictures have been:
– A woman playing ice hockey in full gear
– A guy dressed as a clown since he performs for children every Sunday
– A woman climbing a tree at a winery
– A guy singing with a mariachi band
– A woman posing next to a sign saying "Completely Nuts" (Oh wait – that was me again!)
As a side note, I think I can speak for most of my fair gender when I say that we don't care how big the fish you caught was. Compensating for something, perhaps? 🙂
To show a real-life example, I'm going to use a photo of yours truly: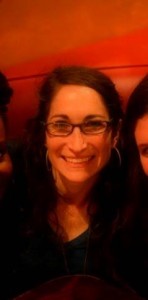 This picture, while fine, is not really showing anything special.
Now, let's look at this one: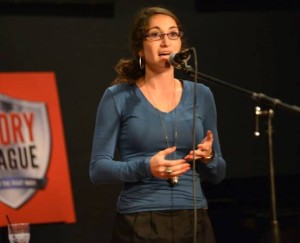 This picture instead shows me performing with Story League, something I like to do to get my creative juices flowing. It could easily generate questions like:
– Where are you speaking? (Busboys & Poets)
– Do you do that often? (Every month or two)
– What was that particular story about? (A text message gone awfully wrong)
– Do you always wear glasses? (Only if I want to see you from far away!)
These two pictures were taken the exact same night, but one would do much better online.
The moral: Many people have no idea what to say in the initial email, so give them something easy to comment about, or "email bait."
Catch a Date with "Email Bait"