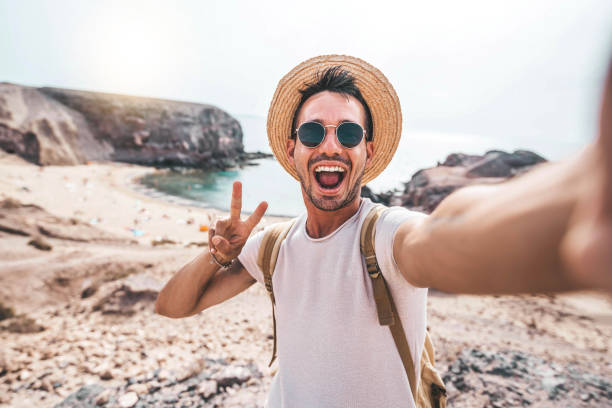 What you write in your online dating profile requires careful thought — after all, it's giving the reader (a potential match) the first impression of who you are and what you're all about. But photos require an equal amount of attention, if not more.
People often have short attention spans on dating apps and websites. If it's not immediately apparent who they're looking at and deciding whether to talk to, they'll likely move on to the next option. That's why picking photos is so important — just one game of "Which person in the photo is it?" or apparent filter and they might give up.
Read on for five photos that should stay on your camera roll but off your dating profile:
1. Group Shots
I've heard people say that they use group shots in their profiles because they think it makes them look social. However, it quickly becomes a "Who am I looking at?" scenario, which can be frustrating. Even if someone finds you, group photos leave you open to comparisons — or, in the worst case, "Is your friend single?" Your dating profile is all about you, not your friends, so keep it focused on solo snaps.
2. Bathroom and Mirror Selfies
I get it — you just got your hair done, you're feeling great, and the lighting is perfect. But no matter how good you look, there's nothing that dampens the mood like a toilet in the background of a photo. (Nobody wants to think about that.) Mirror and bathroom selfies look immature and can be taken as vanity. And please, I'm begging you, no gym mirror selfies with your shirt off.
3. Snaps with Pets that Aren't Yours
So your friend has an adorable Golden Retriever? That's great. But if Fluffy isn't yours, he shouldn't be in your profile. It can be confusing when you have pictures with a dog and your profile reads "no pets." Plus, it can stop a conversation in its tracks. When someone messages you with a question about the pet, then you share that it's not yours, they might feel like they don't know where to take the conversation since they thought they found something you have in common. But a selfie with a giraffe? Definitely profile-worthy.
4. Filtered or Heavily Edited Photos
Rule of thumb: your photos should look like you. Filters or edited pictures may get you more attention, but at the end of the day, they just lead to an uncomfortable first meeting when someone leaves feeling deceived. That also means anything that obstructs your face — sunglasses, masks, and hats, for example — should only make an appearance or two in your photos rather than all of them. Don't hide yourself, either behind a filter or a hat.
5. Photos with Children
While you should definitely be truthful in your profile about having children, I wouldn't recommend including them in your photos — it's best to keep their images private. Furthermore, don't include photographs of kids that aren't yours, even if they're family. In addition to sending mixed messages, I'm going to guess their parents won't be thrilled to find their likeness on a dating app.
Like it or not, people are looking at your photos when deciding if they should connect online. I recommend that your first photo to be a clear profile shot of you smiling. You should also include a full-body photo as well as some pictures that show your interests — traveling, cooking, hiking, dancing — which make great conversation starters, or "message bait."
At the end of the day, your photos are an extension of your profile, showing who you are and what you like to do. People want to know who they're talking to, and anything that gets in the way of that might result in a left swipe.
5 Photos NOT to Post in Your Online Dating Profiles